Our Mission, creating change by helping people in need. This is our main goal!
Main Base Camp
Fair Future Foundation, Kawan Baik Indonesia, Action For Fair Future, 
No Problem TV, Kawan Baik, Kawanbaik.co and Fair Future Indonesia
Jalan Danau Poso No.51A
Banjar Semawang Sanur
80228 Denpasar Selatan
Bali - Indonesia
No Problem TV, Kawan Baik and Fair Future Indonesia
Our address
Fair Future Foundation, Action For Fair Future, No Problem TV, Kawan Baik, Kawanbaik.co and Fair Future Indonesia and Epi Production
Jalan Danau Poso No.51A
Banjar Semawang Sanur
80228 Denpasar Selatan
Bali - Indonesia
Sumba Base Camp at Rumah Kambera
Sumba Base Camp
Fair Future Indonesia and Kawan baik Indonesia
Jl. S. Parman
kampung Praikundu
87115 Kambera
Nusa Tenggara Timur - Indonesia
Sumba Base Camp
Fair Future Indonesia and Kawan baik Indonesia
Jl. S. Parman
kampung Praikundu
87115 Kambera
Nusa Tenggara Timur - Indonesia
Donate offline
Make a bank transfer to one of our Swiss bank accounts!
How are you today? I am Elisa and I joined the board of the foundation -secretary and treasurer- in October 2019 and the teams of the foundation in Indonesia, on February 2020 as a volunteer for the Fair Future programs.
If you want to make a donation by bank transfer, there are our bank details in Switzerland
Fair Future Foundation
Route d'Yvonand 8B – 1522 Lucens (VD) – Switzerland
Banque Cantonale Vaudoise (BCV)
IBAN : CH 83 0076 7000 e543 5802 2
Bank clearing: 767
BIC/SWIFT: BCVLCH2LXXX
Fair Future Foundation
Route d'Yvonand 8B – 1522 Lucens (VD) – Switzerland
Credit Suisse Bank
IBAN : CH64 0483 5143 7008 9100 0
Bank clearing: 4835
BIC/SWIFT: CRESCHZZ11A
Thank you very much for helping us and see you very soon.
The mission of Fair Future is
to provide solutions for a better life, access to medical care, education, healthy living to those who need it most. Fair Future provides assistance to populations in distress, to victims of epidemics, natural or man-made disasters. We do this while respecting local geographic contexts, local beliefs and traditions.

For more than a decade, the Foundation has been meeting the basic needs of the most disadvantaged children in terms of food, housing, access to care and medical monitoring, and disease prevention.
But also the consequences of accidents, of social and emotional development aid, in particular towards disadvantaged groups and individuals.
We work to provide healthy and adequate food, sharing knowledge and experience in creating a healthy lifestyle for communities.

Help to provide a good education and experience during childhood will positively affect their behavior and way of thinking.
Help kids build their future in terms of schooling, learning languages, vocational training useful for their environment and their place of life.
Offer them the opportunity to show us their shortcomings and their problems (through their points of view), by implementing simple and fun actions.

Provide information on the importance of sanitation and hygiene, as well as a healthy lifestyle for women, especially during menstruation.
Reproductive health for teenage girls, victims of sexual abuse. Learning the reproductive system in young girls, victims of forced marriages when they are underage, often under 15 years old.
Prevention of pregnancies in young girls, and support if they are pregnant.

Work in so-called "emergency" actions such as: Care for children in danger, abandoned children, street children, and victims of various forms of trafficking.
Provide support to families in priority difficulty after a natural disaster, a shortage of water, food, or who are suffering from a pandemic or epidemic.
Provide food and vital products (COVID-19), rebuild destroyed schools, houses, or all other educational buildings.

Develop micro-credit and zero-interest loan solutions, leading to the granting of money loans to entrepreneurs, street vendors, artisans, and people with a small project and goals for their life.
A vast majority of these people cannot access conventional bank loans like everyone else.
These foundation Micro-Credit solutions make it possible to carry out their own projects, thus promoting activity and wealth creation, and income for an entire family, or community.

Provide access to a source of water and, if possible, drinking water, by developing projects for the construction of wells, water reservoirs, and the installation of rainwater recovery systems for example, the foundation act.
It is a question of ensuring families a healthier life in order to be able to drink, cook healthy food, wash clothes, and they can wash and shower.
But also to fight against malnutrition and infant mortality due to poor water quality.
Without the provision of modern energy and electricity, there is no support for socio-economic development and improving living conditions in rural areas in Indonesia.
We develop fair solutions to provide light, a simple lamp in a house, or in a village so that children can study when they return from school.
We install solar panels in villages, on playgrounds and we favour the use of renewable energy sources such as wind, water and solar.

Learning to treat minor injuries not to become more serious injuries before being taken to the hospital for professional doctors treatment.
When 1st aid kit can be accessed easily, we ensure people are safe. When basic needs for access to basic healthcare are not met, we begin simple actions.
One 1st aid kit per school & village! Lack of medical facilities, difficulties of the Indonesian health system, the poverty of families are the main reasons for this finding.
Discover the work of the foundation
Fair Future is a borderless movement of people, working together to end the injustice of poverty. Together with our partners, we use a combination of practical and innovative tactics to implement development programs, public education, educational campaigns, advocacy campaigns and humanitarian assistance in disasters and conflicts.
The foundation is exclusively dedicated to providing people and children with concrete solutions to improve social, educational and medical living conditions through innovative and inspiring projects. From the construction of schools in rural and forgotten areas, of clinics or of a hospital, to projects to empower women.
Self-sufficiency has been our common thread since 2006: A social restaurant, a Fair eShop to support small artisans and micro-businesses, a social TV channel, a crowdfunding platform. We have created the Fair Future Indonesia and Kawan Baik Indonesia to work in al social fields in Indonesia. Fair Future will always find new ways to help communities equally and regardless of religion, beliefs, gender or age.
Also active in social, medical or infrastructural emergency aid, the foundation provides rapid and effective responses in favour of or populations affected by natural disasters, epidemics or pandemics, shortages, destruction of vital buildings or economic crises.
Sanitation, toilets, feminine hygiene, access to drinking water, access to electricity, access to medical care, getting more children to school... We will not stop until everyone can live a healthy and balanced life, with the means of subsistence in order to have a better life.
Support and develop projects aimed at creating opportunities for all generations, children, young adults, the elderly. The foundation aims to rebalance social inequalities in order to restore the autonomy of all communities of people. We are creating a fairer and more equitable future for all.
Innovative and original ways
in order to define the needs of people without resources
Innovative, ingenious and respectful projects
We do everything to use local resources, work with local communities and do not want to create unnecessary dependencies.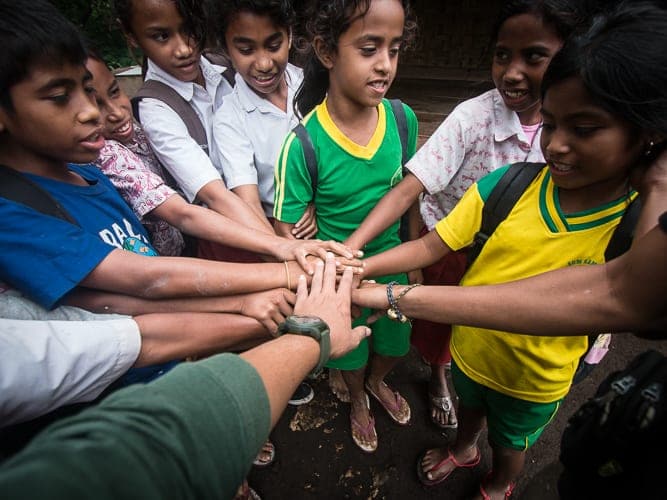 INNOVATIVE, INGENIOUS AND RESPECTFUL PROJECTS
Our vision is of a just world in which all men and women determine the course of their lives in dignity and security, using environmental resources in a sustainable manner.
For the first time in human history, overcoming poverty as destiny is within reach. Faced with growing inequalities in the regions in which we operate, Fair Future and its innovative creations are joining forces to create paths towards a self-determined life for the young and old alike.
We work with those who are the beneficiaries of the actions implemented by the foundation's teams and its partners. A world where every news and change corresponds to the living environment of the people living there. We refuse to provide elements that could ultimately create dependencies, and we favour local resources above all.
Be there, on site, with the communities
We focus on the creation of innovative initiatives, thanks to our strong local involvement, we can define what people really need for a better life.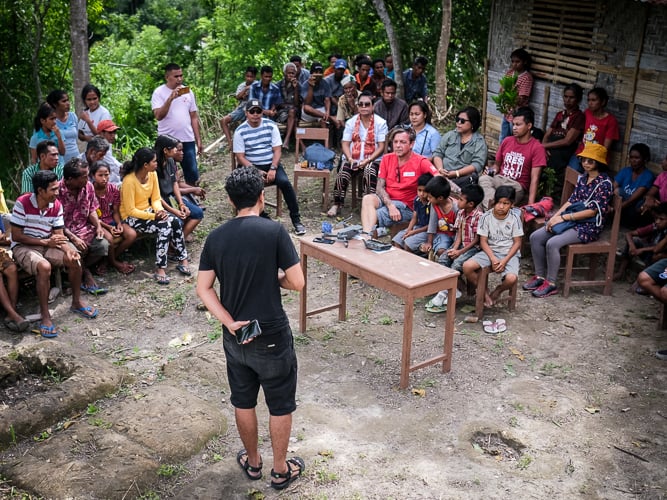 Being with them on the field, where programs are created
It is indeed unique, it is we who are in the places where we create a human, innovative and ingenious change. We are not an organization that distributes funds without knowing how they will be used, and we never will.
All of our programs are created and determined by Fair Future; in particular, thanks to original actions such as "Sumba Photo Stories", a needs definition program, which describes the living conditions of rural communities. A project carried out by children for their living environment, in order to understand their problems through their perspective.
Fair Future is original and unique because it wants to be at the centre of each project, in order to understand the essential issues involved in a change in a rural, disadvantaged and poor environment. Also with the aim of creating a debate with the beneficiaries, because we know that only they have many answers that can offer them a better life.
Making things easy with passion
We integrate into all our choices the notions of risks for the communities, which is good or bad for them. We decide together, them and us!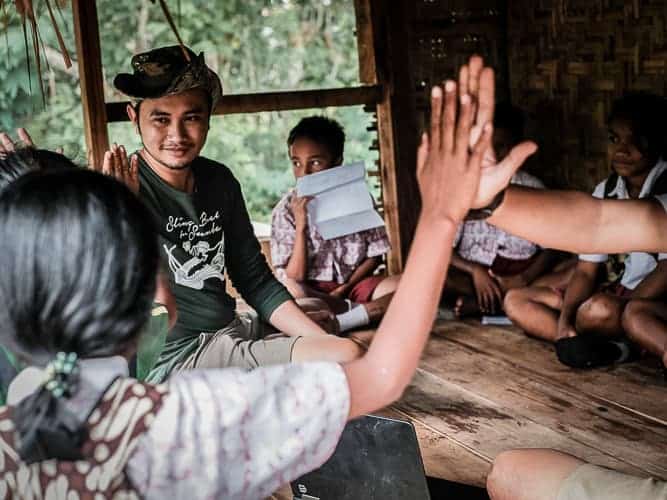 Make it simple but effective for everyone
Knowing how to be responsive and act in full knowledge of the facts and in a thoughtful manner. We are no different because we work in the implementation of humanitarian and charitable actions. Fair Future is always committed to things that it understands, that it has measured, of which it knows the risks in the event of implementation of action in rural areas.
Our knowledge of the places, of the communities with which we work every day, the fact that 90% of our collaborators are from here means that we do not consider ourselves different from the communities with which we work and live. We speak the same language, we understand each other well and know the local issues well.
Fair Future knows how to react in an emergency when necessary, but it also knows how to take its time so that its action is understood by everyone, effective in terms of impact and sustainable over time.