Just like Kawan Nofi, you too can give a little something, just something to have a better life! So as not to starve!
Leading Through Crisis in Sumba by Kawan Nofi
Sumba East, one of the poorest regions in Indonesia. This region is hard hit by the Health Crisis and currently by the economic crisis which affects all families, young people, children, and the elderly in particular. It is in this context and for all of them that we are working hard to provide concrete help. Thank you for helping them Kawans!
Fair Future Indonesia - Kawan Baik Indonesia | August 10, 2020/ Kawan Nofi in Sumba
Dear Madam, dear Sir, dear friends, and families,
Waingapu is the center of various activities in East Sumba Regency.
This is where people live and support themselves and their families daily. This is also where the impact of COVID-19 is most felt for the people of East Sumba.
Jobs that have had to cease due to Covid threaten many households, especially in the tourism sector. Scores of people in East Sumba depend on the pulse of global tourism. However, everything was stopped in early March 2020.

In addition, farmers are also not in a safe zone because locust attacks prevent the harvest of many gardens and fields. From then on, the scarce resources that these people cultivated were shrunken.
The elderly and the disabled are also at the center of this problem. Even though the government already has a small assistance program especially for those affected by Covid-19, there are still thousands of people who need help, but who are desperately receiving nothing, nothing at all!
You know, for a long time now, Kawan Baik Indonesia has been taking concrete and effective measures to be able to help as many people as possible. Here in Sumba, but also elsewhere in Indonesia! We provide help, smiles, love, and vital goods … This means goods necessary for life, survival, within particular and among other things personal hygiene products, sanitary napkins, vitamins. Just like everywhere in Indonesia, you obviously always have to wear a mask and wash your hands and in this sense, we have also offered ourselves hundreds of masks, disinfectant solutions …
The "Goodies Bags" that the foundation has offered by the thousands since March 2020 are composed of basic food products such as Rice, sugar, cooking oil, dried fish, cereals and snacks, eggs, masks, soap, sanitary napkins and toothbrushes, and toothpaste.
Just like the other activities of the Foundation, all the goods which have been purchased, are weighed and packed with our volunteers (Sumba Volunteer, Cahaya Anak Sumba, and Anugerah Anak Sumba) and other various communities in East Sumba. We want to thank them with all our hearts for their precious collaboration, their time, and their great communicative energy! So, let's change things together.
If you want to support our activities here in Sumba, we suggest you click here on this link. Send you love an light and see you soon in Sumba kawans!
Kawan Nofi, Waingapu, August 10th, 2020
#Covid19CommunityCare #KawanBaikBerbagi #KawanBaikIndonesia #KawanSumba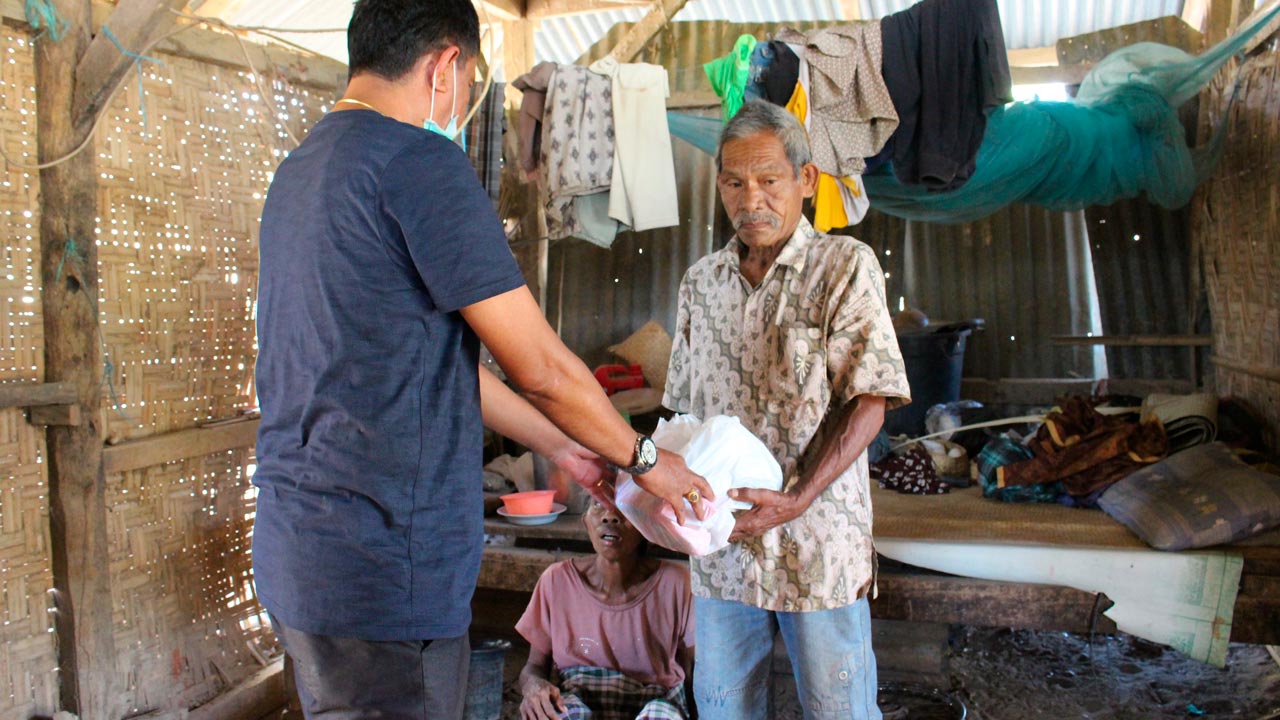 Donation of food and goods to a family in Sumba. These families are poor, often they do not have access to water and electricity. The foundation and its volunteers are there to give something to live on, something to eat, something to wash!