Donate offline
If you want to make a donation by bank transfer, there are our bank details in Switzerland
Fair Future Foundation
Route d'Yvonand 8B – 1522 Lucens (VD) – Switzerland
Banque Cantonale Vaudoise (BCV)
IBAN : CH 83 0076 7000 e543 5802 2
Bank clearing: 767
BIC/SWIFT: BCVLCH2LXXX
Fair Future Foundation
Route d'Yvonand 8B – 1522 Lucens (VD) – Switzerland
Credit Suisse Bank
IBAN : CH64 0483 5143 7008 9100 0
Bank clearing: 4835
BIC/SWIFT: CRESCHZZ11A
Thank you very much for helping us and see you very soon.
This info in another language
Fair Future Foundation is a Swiss, international non-governmental organization
Being on the ground with those who need us
Federal Charity Number: CH-550.1.057.027-8
We are pleased to present the 2019 activity report of the Fair Future Foundation, but also to provide you with a large number of working documents. These are important to all of us, they are the soul of what we all do and do every day on the ground, here and there, in the most remote areas of Indonesia.
What we have done in 2019? The activity report.
Dear friends, a very friendly hello to all of you here or elsewhere, how are you?
First of all, on behalf of all the members of the Fair Future Foundation, we would like to thank you for your support this year.
A busy year for us and full of changes! On the other hand, our vision and our mission do not change. We develop, we grow, new members join us in the field and in Switzerland with a common goal; support and develop projects that aim to improve and offer better access to care and education, create opportunities and rebalance social inequalities to the maximum of our ability. Create a fairer and more equitable future for all.
This year, new partners have joined this mission, starting with the Kawan Baik Indonesia Foundation, co-created and supported by Fair Future Foundation. We will come back to this later.
We end 2019 with a vision of the future full of uncertainties, due to the pandemic that is hitting the world and which will further increase inequalities.
We must therefore support the empowerment of the women, men and children of the Indonesian archipelago in the midst of this human crisis. It is in this perspective that we closed the year 2019 and it is with this in mind that we started in 2020.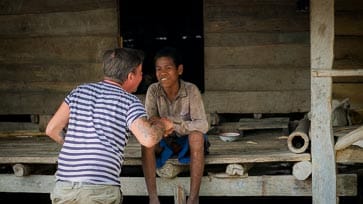 2019 activity report
Take note of the activity report of Fair Future, for the year 2019. Yes, it was definitely an extraordinary year of changes, with the creation of Kawan Baik Indonesia, the Fair Future Platform and all new projects, new horizons in which we work, new teams involved in eastern Indonesia…
What have we done in 2019
Kawan Baik Indonesia
In 2019, the foundation took a new turn in its work. Indeed, after more than 8 years of focusing its actions almost exclusively in the medical field, we have decided to turn to the right of Indonesia when we look at a geographical map of this immense country, 4th largest population in the world.
The territories in eastern Indonesia are among the poorest in Asia. With problems accessing health care like nowhere else. But also access to education, or to a simple school for children. Access to water is also virtually non-existent in many areas. Consequently, infant mortality is disproportionately high. Just like having access to a small source of electricity, a simple light bulb to do homework, developing any activity after 6:00 p.m. is impossible.
We have therefore taken the decision to expand our activities in the eastern territories and more particularly on the island of Sumba, on which the inhabitants of the most rural communities, all face all of the problems listed above.
How to improve access to education, access to basic medical care, cope with a medical emergency? Eat enough, with good quality foods and have access to water for drinking, cooking, for basic hygiene.
To do this we have created an independent, local foundation called Kawan Baik Indonesia (good friends of Indonesia). A centre was created in September 2020, this is our base camp here in Indonesia. A place to live, but above all to work, which concentrates the activities of our two entities: Kawan Baik Indonesia and Fair Future Foundation.
This place is the nerve centre of all our activities in the field. Those very distant on which the employees of Kawan Baik Indonesia and the future legal representation of Fair Future Switzerland work and live. Our base camp is everyone's home, and everyone is welcome: Volunteers, visitors, ideas and creativity. We focus the implementation of our projects there, coordinate our actions between two trips far from our Base Camp.
It is a place where ideas and projects spring up. The people who work there are all Indonesian collaborators, social workers, coordinators and specialists in communication, multimedia too. This is the Fair Future Control Tower in Indonesia.
Our promise to you
Without your loyal support, the essential work we do could not be accomplished.
Fair Future is committed to ensuring the well-being of the people we work with and for whom we work. We are currently working harder than ever to achieve this. We need all of you! Join our global movement dedicated to fighting poverty, improving education and empowering people.
Access to basic medical care
We are working really, really hard for this
The rural communities of this ultra-peripheral region do not have access to medical care, even the most basic. Indeed, the distance separating the villages from the nearest health center is very large. The roads are difficult, they are mainly dirt or pebble roads on which only an all-terrain vehicle can access.
MEDICAL PROGRAMS
Beneficiaries:
+/-12,000 children, young adults and adults in the province of Bali
300 to 400 children, young adults and adults in East Sumba province
The medical care initiated by Fair Future, as since 2011, concerned the finishing touches of the hospital, but also and above all community care in villages and regions with too little access to care.
Until September 2019, we had the privilege of treating nearly 12,000 people.
Plugs that are simple for the most part, but essential. By prescribing medicines, healthy food, vitamins and wound treatments, we have continued to do what we have been doing since 2011 in Indonesia, that is to offer completely free medical care, thanks to local medical teams, a team of nearly 15 people occupied in the field, but also in our clinic open 6 days a week.
In the hospital, too, we were able to receive a large number of patients, especially during community care days.
Since September 2019, Fair Future has also organised, in collaboration with our new local foundation -Kawan Baik Indonesia-, care sessions in the most rural and underprivileged villages of the country, in Sumba East.
Another form of mission for all of us, particularly in terms of relocation, but also a real logistical challenge and an even more complex organisation than the one already in place. An important turning point for Fair Future, which in September 2019 decided to work and bring help and comfort, especially in terms of medical care, to these populations, far from everything, in eastern Indonesia.
SUMBA PHOTO STORIES
Beneficiaries: 48 children from two schools in the Kahausgu Eti district, guides, trainers and teachers from the villages.
Sometimes it is difficult to define what should be prioritized and find the most effective method of solving the problems. The Foundation has therefore initiated a photography project in which children from the outermost regions of the island of Sumba, in eastern Indonesia, show us their reality and their daily lives.
Thanks to these photos and by directly engaging children in this project, we are putting a name to the difficulties they face, through their perspective.
They learn photography through a series of training in which we teach them how to use the camera, take pictures with good composition and then tell a story related to the picture taken.
Sumba Photo Stories is a database to develop future projects. The photos capture their real problems, we respond with adapted solutions, whether in terms of nutrition, education, access to water, hygiene and sanitation, or even access to care.
The photographs, real works of art, are a database but have made it possible to create a virtual exhibition to inform and invite groups of people, experts, volunteers to find with us innovative solutions to improve the daily life of these communities.
All the people who will attend the exhibition will receive information on culture, social aspect, access to health, water, education in Sumba.
A trigger for socio-medical actions
Defining the problems in an artistic way
Another approach to defining needs, describe the socio-culture conditions. A unique project made by children for their living environment, engaging local children and understanding the problems through their perspective.
ACTION FOR FAIR FUTURE
We are where people have significant needs are
The Fair Future platform also aims to find solutions for communities living in the outermost regions. Whether these people are affected by a situation of social, emotional or medical vulnerability, having access only to dirty water and too little food, having no access to medical care or suffering from a disability
ACTION FOR FAIR FUTURE
For who?
Our new crowdfunding platform dedicated to public institutions, non-profit associations, groups of young people and individuals who initiate or support a project aimed at improving the living conditions of a group of people with environmental difficulties, social, medial or religious or not having access to education.
Why?
We believe that medico-social causes, problems of access to education, water or actions leading to the development of renewable energies to provide electricity for example should not be confused with personal causes and individual.
Projects and causes
Improvement of living conditions, women's health, pregnancies among minors. Drinking water and electricity using renewable energies. Access to better education, school supplies, school safety and feel joy while studying. Access to health and medical care for all. Philanthropic, heritage, ecological projects!
This activity report is posted online in March 2020, because indeed, we had a lot of delay in drafting it. You will tell me, but then, where is the one for 2020? Well, it will be published as soon as possible…
But 2020 was a year in which we have been (and still are) very busy, 7/7, 365 / year with Fair Future and Kawan Baik, fighting COVID-19, the construction of MbinuDita in East Sumba, the socio programs in Sumba, Rumah Kambera and all the actions on which we are still working while we are in March 2021 … So a little patience!
Thank you with all our heart for your love, the kindness that you have all shown for more than ten years now. Take care of yourself, your loved ones, stay safe and live intensely.