Covid-19 Pandemic in Rural areas of Indonesia, what we are doing?
Work to detect, protect and treat in one of the regions most affected by the pandemic
Indonesia is one of the countries most affected in the world by the COVID-19 pandemic.
And nothing is done, the government watches and prays… And lock the country!
Extract | Linked to the Covid-19 pandemic, the situation in the country is serious and nothing is being done except by us, Fair Future and Kawan Baik. Cases are multiplying dramatically in the east of the country, and the means are non-existent. The major problem is that in the areas furthest from the central government of Jakarta, hardly any help is reaching us. Fair Future works to help sick people, is active in prevention, provides food, oxygen, medicine and social support.
Fair Future and Kawan Baik as part of its socio-medical activity in eastern Indonesia, take care of individuals, families, and communities.
As the world fights COVID-19, there's never been a greater need for accurate, verified information. We can all play our part in stopping the spread of harmful misinformation.
With a population of 268 million, Indonesia is the fourth most populous country in the world. Faced with the pandemic, the country seems overwhelmed and deprived of means, materials, logistical and organisational strategy, leaving tens of millions of people behind.
The Situation in Indonesia
Linked to the Covid-19 pandemic, the situation in the country is serious. The cases are increasing dramatically to the point that the country has been totally paralyzed for months. The major problem is that in the areas furthest from the central government of Jakarta, hardly any help is reaching us. Fair Future will act to help people struggling in their life in East Sumba. (See the budget detail here)
The situation is, therefore, more and more dramatic
No Antigen tests, no vaccine (here in Sumba for example, hardly anyone is vaccinated). Also, the health centers are closed because they are infected and the medical staff is sick. There are very few doctors and other medical personnel who are still at work. This is linked to medical and infectious factors, but also and above all because the staff is no longer paid, therefore they no longer come to work.
It is therefore necessary to carry out screenings, to carry out tests, but also to inform how one can avoid contaminating, and being contaminated. Fair Future and I know Sumba very well, the people and villages, even those farthest from rural areas.
Only 0.04% of the population has undergone a screening test (type Antigen Test), most people wanting to travel to a neighboring region by plane. Despite this very low rate, there is a sharp increase in cases of viral infections. This means that the screening that Fair Future, Kawan Baik, and our local doctor friends want to do will show a much higher rate of infection.
This scares the politicians on the spot, that goes without saying, but it is there, the one and only way to slow down the contagion. In any case, the figures published on the number of infected and deceased people are generally very false, because once again, no one is tested!
Despite this very low rate of people tested, there is a sharp increase in cases of viral infections. This means that the screening that Fair Future, Kawan Baik, and our local doctor friends want to do will show a much higher rate of infection.
Fair Future and Kawan Baik as you know have a center in Sumba East, in which our teams are active every day: volunteers, doctors, nursing staff. Rumah Kambera, our Base Camp on-site for the territories of eastern Indonesia, with the "Truck of Life" program that we recently launched, is able to carry out screening campaigns, Antigen or PCR tests, and of course, participate in the common effort of vaccination for all. Because once again, we are all equal in the face of disease and in the face of this global pandemic which is hitting this country with full force… The 4th largest population in the world.
The situation in Indonesia is dramatic, and even more so in the eastern territories
Screening and testing equipment has become a huge business here in Indonesia. You can buy tests everywhere, on online platforms, on the black market. The state n0en. not provide, because he cannot pay for them. As for vaccines, again it is not only very few that arrive (3% of the population received two doses and 13% one dose, this in the big cities or in Bali). In the eastern regions, this rate is around 1.5% in average. In fact, if you want to be tested and/or vaccinated, you have to go get the test or the vaccine yourself, because it is now on sale in pharmacies or even in the street. A dose of vaccine is expensive, it can represent the equivalent of a month of your salary in Europe.
In Sumba, The medical staff working in the hospital are no longer paid, therefore they no longer come to work. For a population of nearly 300,000 people, only a few doctors are still active and work on a voluntary basis, many of them for the foundation!
We must act now, be a part of this with us
Linked to the fact that screening and testing equipment is not made available free of charge (although it should of course be), that if we all agree together, Kawan Baik Indonesia, Fair Future Foundation, our medical friends in Sumba, but also elsewhere, so we can improve things, if only a little. But for that, it is necessary to think globally and not in a personal way: From then on, to act for the common good and the public interest only.
To do this, we are there, a large community of people with great will, skills, know-how, and a single goal: Help as many people as possible to find a normal life and prevent more from falling into illness, even more precarious, and above all to stem the spread of the disease in Sumba.
WHAT THE FOUNDATION IS DOING FOR FEW MONTHS NOW!
Screening and testing of people, in areas most affected by the pandemic, public places such as local markets;
Reception of persons of people in the Base Camp of Rumah Kambera for advice, screenings, tests and vaccination;
Take care of people to be placed in isolation, feed, care for, occupy and make understood the merits of the isolation measure;
Coordinate the foundation's screening, testing and vaccination actions with local authorities, the Indonesian Red Cross;
Avoid the spread of the virus as much as possible by implementing the necessary measures;
Coordinate actions requiring medical care with our team of doctors and the network of young volunteers from Indonesia;
Setting up information sessions wherever we can, with distribution of masks, disinfectant solutions, clean water and food for communities, villages and families;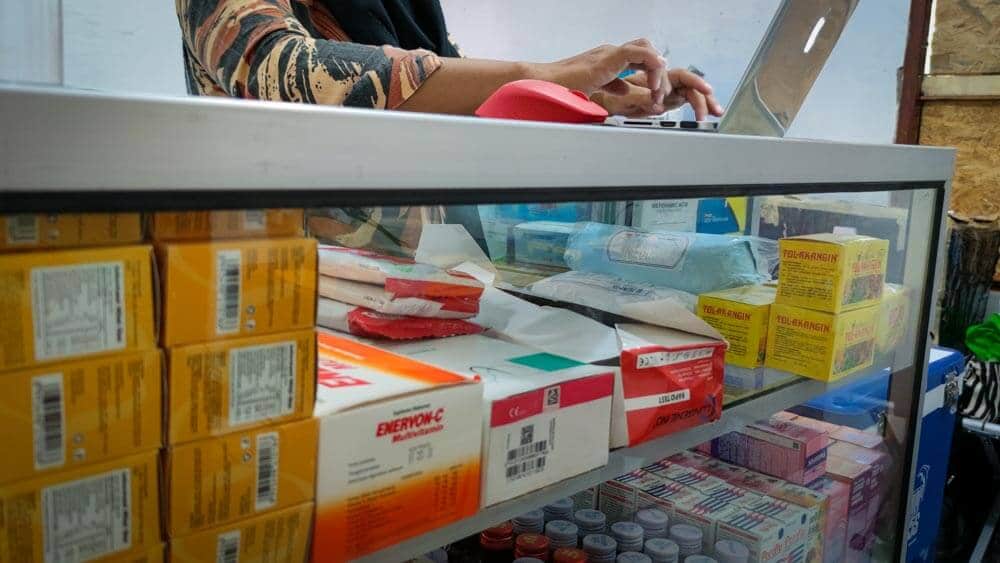 The impact of COVID on mental health … and how we can help each other
When we are feeling down, talking about it can help. Contact someone close to you.
"This pandemic came to disrupt our lives and our health, both physical and mental."
Those were the words of the WHO Regional Director for Europe, Dr Hans Kluge, at a recent summit in Athens about the impacts of COVID-19 on mental health.
The pandemic has taken a toll on all of us. It's completely normal to feel down, even in everyday life, it happens to us all.
But with the added pressures, loss, and disruption that COVID-19 has brought, people everywhere have struggled to find ways of staying positive.
There is a simple way that can help, whether gradually or instantly, and that's talking and listening.
When we're feeling down, talking about it can help. Reach out to someone close to you. Tell them how you are feeling. Or ask them how they are. Hearing someone share their feelings and emotions, or having your feelings heard, can help unburden some of the stress, worry, fear, and angst that COVID-19 has caused.
Critical mental health services have been disrupted in 93% of countries during the pandemic. If you are feeling low and unsure who to turn to, or if you have noticed a friend or family member who isn't coping well, try to take that first step and start talking about it.
Fair Future is pleased to announce the following assistance
Substantial aid in the form of a donation, for an amount of CHF 20'000.-, from the Swiss Foundation (but not from its government), was donated to Kawan Baik Indonesia in order to participate in the support of patients with COVID-19, in the regions of eastern Indonesia, particularly in Sumba.
These funds, which will be invested in the field, where the real needs are, will be used to acquire oxygen therapy equipment, drugs, food, antigen, and PCR tests.
However, we still need more! So many people here in eastern Indonesia are sick and the central government is doing nothing!
Give for Fair Future programs
Donate to programs initiated by Fair Future and Kawan Baik Indonesia, and be on the ground with us. We are committed to ensuring that as many people as possible have access to a better and healthier life. We are focusing on creating solutions for sanitation and access to drinking water and clean water, sanitationaccess to energy sources, access to school and knowledge, access to medical care (basic and emergency care), especially for children, healthy food, women's rights, and minorities living in rural and ultra peripheral areas.
**Click here to make a donation
Give for Water Connections Program
Fair Future works every day to improve the living conditions of rural communities in eastern Indonesia.
One of the Foundation's tasks is to ensure equitable access to water in quantity and quality, in order to prevent diseases such as cholera, diarrhea, dysentery, hepatitis A, typhoid, and poliomyelitis. With, for children and vulnerable people, a high mortality rate., and maintain lives and livelihoods. This is to reduce environmental risks to health, by managing sanitation safely and with dignity. Still, the foundation seeks to involve women and men in the management of water resources, in sanitation by the implementation of safe hygiene practices in order to maximize the benefits for their communities.
**Click here to make a donation
Give for Basic medical care
Whether it is to fight against famine, diseases linked to the lack of clean water, the lack of sanitation system, the fight against the Covid-19 pandemic, respiratory diseases linked to air pollution, tuberculosis, or any other form of recurrent illness, Fair Future does what it can to best help populations in need.
Help us to provide us with medicines, medical equipment, logistics, my indispensable faith also to get us where no one ever goes. Help us to heal, to give a better life, to help us to save lives!
**Click here to make a donation
Give for 1st emergency relief
Fair Future teams intervene to provide care, including in situations of social and natural disasters, how and why we adapt our activities to each. We have developed emergency actions that have been implemented in the fields of health, access to drinking water, food, and medical care, and have coordinated a multitude of actions since their different medico-social Base Camps. Our teams of professionals fight every day against epidemics and serious illnesses, due to lack of water, food, hygiene, and care for children or pregnant women and vulnerable people.
**Click here to make a donation
Give for Rumah Kambera
Fair Future and Kawan Baik Indonesia Foundation incorporate in all its choices and decisions taken in the context of its actions and field programs, the notions of risks for communities, what is good or bad for them, for people, children, and villages. And for years, we have for mission to develop, support, and create humanitarian programs and actions linked to education, training, and medical care. This is why Fair Future and Kawan Baik Indonesia have created Rumah Kambera, our Base Camp in the Eastern part of Indonesia.
**Click here to make a donation
Give for Rebuild MbinuDita program
After building a new school, bigger, stronger, with materials resistant to storms, bad weather, earthquakes, Fair Future and Kawan Baik, as part of the program, we named "Rebuild MbinuDita ", continue to provide basic things for the lives of thousands of people there.
The program "Rebuild MbinuDita" is to give access to clean water to all the inhabitants of the community, but also to medical care, to healthy food through the creation of organic gardens. These activities have no other objectives than to increase the quality of their life, to provide better health to people (especially children, vulnerable people, pregnant women), access to health and medical care, and for people to be able to increase their income.
**Click here to make a donation
Give for The Truck of Life Program
In the most inaccessible territories, live thousands of people who do not have access to the most basic needs in order to ensure them a healthier life, or basic medical care, access to drinking water so as not to be ill, or a source of light for reading or studying for children.
The Truck of Life program allows us to provide medical care and take children or even a doctor or dentist to the nearest town. Truck Of Life allows us to bring equipment, food, and drinking water to wherever no one goes while ensuring the safety of our volunteers and specialized collaborators.
**Click here to make a donation
You don't have access to e-banking?
Sometimes, it is not possible to make a donation via modern solutions, by what is called "e-banking".
From then on, you can participate in one of our projects or programs by making a bank transfer, via one of our two bank accounts in Switzerland.
**Click here to make a donation
Common diseases we work on
Tuberculosis in Indonesia: A social disease affects the poorest communities, those living in difficult conditions. There are hundreds of thousands of new cases in Indonesia, such as HIV, which is not often mentioned here!
Dengue virus infection: DENV is a real major cause of acute febrile illness here. In the most affected regions, mortality is very high & affects the most vulnerable. Especially for those who do not have access to medical care.
Malaria and the vulnerable: Every year, malaria kills thousands of people in Indonesia, in all regions, even the richest. 70% of all deaths are children under five, and affect people and families who cannot access medical care.
Antimicrobial resistances. In here, this is a real health emergency, almost all drugs are available over the counter! This scourge turns simple wounds and easily treatable diseases into causes of death.
Air pollution and health: Plastic that burns, everywhere! Air pollution is responsible for almost 50% of mortality here. Dioxins, furans, mercury, and polychlorinated biphenyls are highly toxic!
Malnutrition and famine: Malnutrition causes serious illnesses where we are! The phenomenon, creating a vicious cycle of starvation & disease. This is a major problem in which we deal with!
FFF Base Camp In East Sumba
SOME PICTURES OF LIVING CONDITIONS IN EASTERN INDONESIA
PEOPLE HAVE NO IDEA ABOUT COVID-19. For them, this is just some words