Working Principles
Our actions are guided by medical ethics
Together, we offer assistance to people according to their real needs.
It doesn't matter what country they are from, what religion they belong to, or what their political affiliations are. We prioritize those who are in the most serious and immediate danger.
Extract | Together, we offer assistance to people according to their real needs. It doesn't matter what country they are from, what religion they belong to, or what their political affiliations are. We prioritize those who are in the most serious and immediate danger. As you know, Fair Future for more than 15 years has been offering medical assistance to the most vulnerable people, those affected by epidemics, disasters, or exclusion from health care. Over the years, the foundation has evolved a lot in its approaches to medical care. For example, access to clean, non-lethal water has become one of our top priorities because water is simply life.
The world shouldn't have a border!
Fair Future and therefore a global movement active in the 4th largest country in the world!
Demonstrate independence
The decision to offer social, medical, educational and food aid is based on our needs assessment in collaboration with local authorities, regardless of political, economic, or religious interests. The independence of Fair Future is deeply rooted in the way we are funded.
Knowing that 99% of our donations come from individual private donors who give small amounts, it gives a lot of responsibility.
Therefore, Fair Future strives to freely assess needs, access populations without restriction, and directly provide the assistance that families, villages, and communities really need.

Demonstrate Neutrality
Fair Future and Kawan Baik do not take sides in political disputes and do not support the programs of political parties. We do an act of pure neutrality, but we allow to think and this, in a personal capacity only.
Sometimes Fair Future cannot access a region for military, political, or natural disaster-related matters. Even if we will do everything possible to be able to access it, sometimes access is simply refused to us because of insecurity, or because the main needs of the population are already covered.
We provide social, medical, food, logistical assistance to people affected by disasters, epidemics, or exclusion from healthcare. The Fair Future teams are made up of healthcare professionals, logistics and administrative staff, all recruited locally. Our actions, way of doing and thinking projects are guided by our code of ethics, common sense, the principles of impartiality, independence and neutrality.
Witnesses and testimonies
Neutrality, on the other hand, is obviously not synonymous with silence. Our proximity to people in distress implies a duty to raise awareness of their fate in order to – ultimately – help improve their situation.
Fair Future and Kawan Baik seek at all times to draw attention to the needs and sufferings of individuals, families, and communities when access to vital needs such as medical care, food, and clean water is hindered.
While sometimes our teams can be witnesses to acts of violence (social, financial, political, physical, psychological …), we encourage them to talk about it by noting the absolute facts.
Likewise, when another organization or government, in response to a crisis, responds to that crisis in an abusive manner, it is the duty of Fair Future and Kawan Baik to report these facts.
Demonstrate transparency and accountability
Fair Future and Kawan Baik assume and are responsible for reporting our actions to our beneficiaries and donors. We want to be absolutely transparent about the choices we make, but we cannot fight on equal terms with political or governmental decisions linked to new laws. Also, we fight all forms of corruption, but we cannot endanger the members of our teams. Therefore and if we find ourselves in an impasse, we must accept and do our best, open a dialogue and find a favourable outcome.
At all times, Fair Future and Kawan Baik conduct evaluations, critical reviews, and debates on our field practices, and our positioning with the public on broader social, human, and humanitarian issues. These evaluations are necessary and very constructive in order to improve what we have done, plan to do, and are doing today.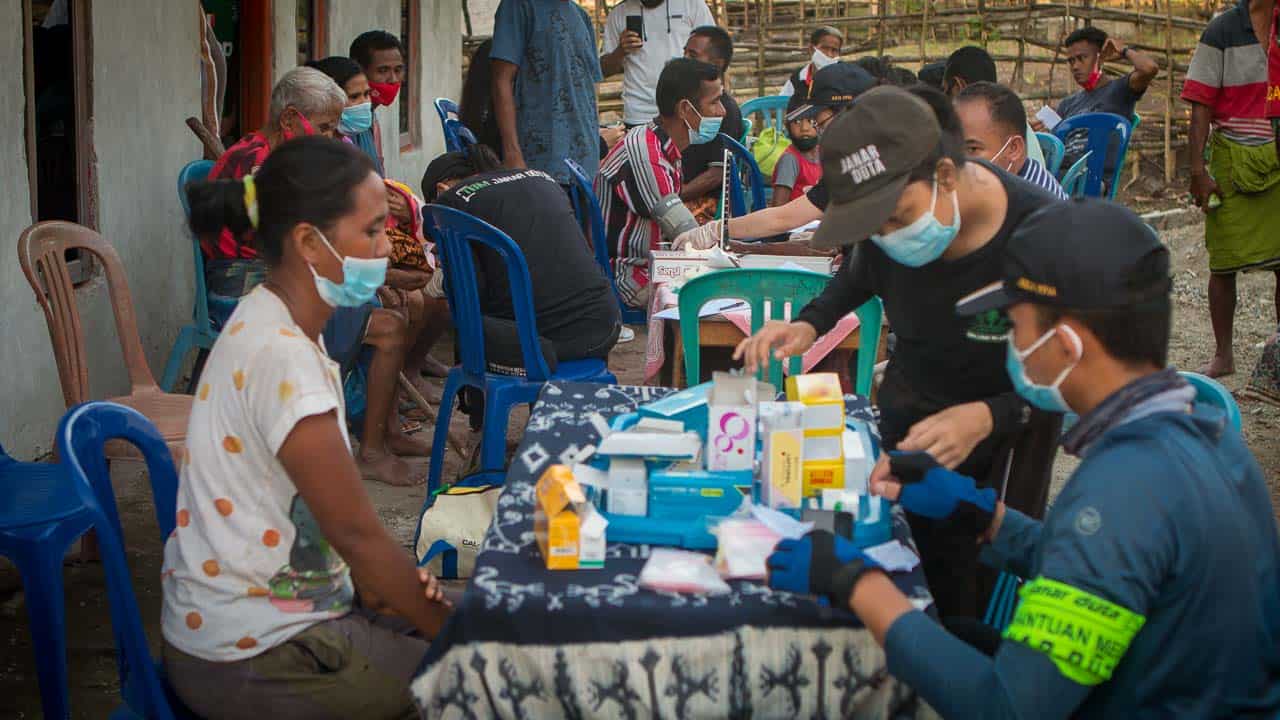 Give for Fair Future programs
Donate to programs initiated by Fair Future and Kawan Baik Indonesia, and be on the ground with us. We are committed to ensuring that as many people as possible have access to a better and healthier life. We are focusing on creating solutions for sanitation and access to drinking water and clean water, sanitationaccess to energy sources, access to school and knowledge, access to medical care (basic and emergency care), especially for children, healthy food, women's rights, and minorities living in rural and ultra peripheral areas.
**Click here to make a donation
Give for Water Connections Program
Fair Future works every day to improve the living conditions of rural communities in eastern Indonesia.
One of the Foundation's tasks is to ensure equitable access to water in quantity and quality, in order to prevent diseases such as cholera, diarrhea, dysentery, hepatitis A, typhoid, and poliomyelitis. With, for children and vulnerable people, a high mortality rate., and maintain lives and livelihoods. This is to reduce environmental risks to health, by managing sanitation safely and with dignity. Still, the foundation seeks to involve women and men in the management of water resources, in sanitation by the implementation of safe hygiene practices in order to maximize the benefits for their communities.
**Click here to make a donation
Give for Basic medical care
Whether it is to fight against famine, diseases linked to the lack of clean water, the lack of sanitation system, the fight against the Covid-19 pandemic, respiratory diseases linked to air pollution, tuberculosis, or any other form of recurrent illness, Fair Future does what it can to best help populations in need.
Help us to provide us with medicines, medical equipment, logistics, my indispensable faith also to get us where no one ever goes. Help us to heal, to give a better life, to help us to save lives!
**Click here to make a donation
Give for 1st emergency relief
Fair Future teams intervene to provide care, including in situations of social and natural disasters, how and why we adapt our activities to each. We have developed emergency actions that have been implemented in the fields of health, access to drinking water, food, and medical care, and have coordinated a multitude of actions since their different medico-social Base Camps. Our teams of professionals fight every day against epidemics and serious illnesses, due to lack of water, food, hygiene, and care for children or pregnant women and vulnerable people.
**Click here to make a donation
Give for Rumah Kambera
Fair Future and Kawan Baik Indonesia Foundation incorporate in all its choices and decisions taken in the context of its actions and field programs, the notions of risks for communities, what is good or bad for them, for people, children, and villages. And for years, we have for mission to develop, support, and create humanitarian programs and actions linked to education, training, and medical care. This is why Fair Future and Kawan Baik Indonesia have created Rumah Kambera, our Base Camp in the Eastern part of Indonesia.
**Click here to make a donation
Give for Rebuild MbinuDita program
After building a new school, bigger, stronger, with materials resistant to storms, bad weather, earthquakes, Fair Future and Kawan Baik, as part of the program, we named "Rebuild MbinuDita ", continue to provide basic things for the lives of thousands of people there.
The program "Rebuild MbinuDita" is to give access to clean water to all the inhabitants of the community, but also to medical care, to healthy food through the creation of organic gardens. These activities have no other objectives than to increase the quality of their life, to provide better health to people (especially children, vulnerable people, pregnant women), access to health and medical care, and for people to be able to increase their income.
**Click here to make a donation
Give for The Truck of Life Program
In the most inaccessible territories, live thousands of people who do not have access to the most basic needs in order to ensure them a healthier life, or basic medical care, access to drinking water so as not to be ill, or a source of light for reading or studying for children.
The Truck of Life program allows us to provide medical care and take children or even a doctor or dentist to the nearest town. Truck Of Life allows us to bring equipment, food, and drinking water to wherever no one goes while ensuring the safety of our volunteers and specialized collaborators.
**Click here to make a donation
You don't have access to e-banking?
Sometimes, it is not possible to make a donation via modern solutions, by what is called "e-banking".
From then on, you can participate in one of our projects or programs by making a bank transfer, via one of our two bank accounts in Switzerland.
**Click here to make a donation
FFF Base Camp NTT, East Sumba
FEATURED
Your donations finance the programs initiated by Fair Future. A nail, a screw, a roof, drinking water, healthy meals, minor surgery, medical care, school notebooks, shoes, a solar lamp and so many other things every year.
255k
Patients, women, children, families who have received benefits
CHF.450k
Invested in social, medical, logistical programs in rural areas
Millions
Liters of clean, non-lethal water found and offered to people
225k
Hours of work donated in support of the projects
In 2022
in 2022? More patients, more projects, more requests!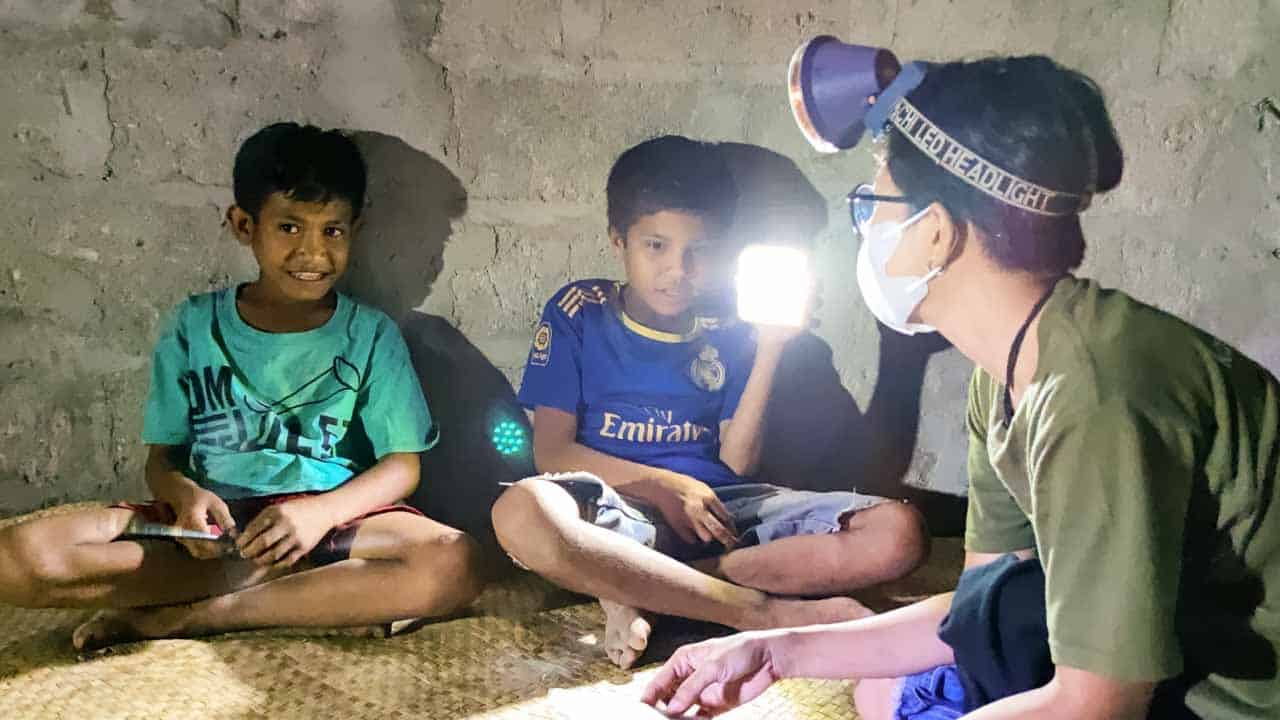 Understand our work
& the challenges we face
Fair Future Foundation is a Swiss and international Foundation.
The foundation is mainly composed of social and medical staff, agents of the health sector, and pioneers in their particular fields such as Access to water, renewable energies, and is also open to all other professions that can contribute to the achievement of its objectives. Our actions are guided by medical ethics and the principles of impartiality, independence and neutrality.
The men and women working for or with the foundation undertake to respect their professional ethics and to maintain total independence with regard to any political, economic, or religious power.
The Swiss foundation and its local partners come to the aid of populations in distress, victims of natural or man-made disasters. They do so without distinction of race, religion, creed, or political convictions.
Fair Future observes neutrality and impartiality in the name of universal medical ethics and the right to humanitarian assistance and claims full freedom in the exercise of its functions.
As volunteers brought to work with the foundation understand the risks and dangers of the missions they accomplish and do not claim for themselves or their beneficiaries any other form of remuneration than that which the foundation might be able to grant them.