Donate offline
If you want to make a donation by bank transfer, there are our bank details in Switzerland
Fair Future Foundation
Route d'Yvonand 8B – 1522 Lucens (VD) – Switzerland
Banque Cantonale Vaudoise (BCV)
IBAN : CH 83 0076 7000 e543 5802 2
Bank clearing: 767
BIC/SWIFT: BCVLCH2LXXX
Fair Future Foundation
Route d'Yvonand 8B – 1522 Lucens (VD) – Switzerland
Credit Suisse Bank
IBAN : CH64 0483 5143 7008 9100 0
Bank clearing: 4835
BIC/SWIFT: CRESCHZZ11A
Thank you very much for helping us and see you very soon.
This info in another language
Fair Future Foundation is a Swiss, international non-governmental organization
Being on the ground with those who need us
Federal Charity Number: CH-550.1.057.027-8
How can we help keeping children learning during the COVID-19 pandemic?
Hello Kawans,
Did you know that in "normal" times, nearly 260 million children are out of school? In Indonesia with the Covid-19 Pandemic, nearly 60 million children are no longer in school!
A huge percentage of these students have no cell phone, computer or television. Some teachers have taken the initiative to visit the homes of his students one by one, sometimes a 22-kilometer route through difficult routes that these big-hearted teachers sometimes cover three times a week. Just to help with homework and review previous homework.
One of the teachers there wrote on his Facebook account not to leave his students without help… I love it!
On the other hand, other parents reported a lack of assistance for their children during the current school closings, even more so for children with special needs. A mother of an autistic child said she did not know how to support her child's education. The teacher only gives homework without providing adequate tools or learning materials.
Other parents have complained that learning materials in schools are difficult for children with disabilities to understand.
So here are some ideas and suggestions that can help parents and children everywhere and from all backgrounds to continue learning during these times without school.
Idea #1 | Plan a routine together
Try to establish a routine that factors in age-appropriate education programs that can be followed online, on the television, or through the radio (If available it goes without saying). Also, factor in playtime and time for reading. Use everyday activities as learning opportunities for your children. And don't forget to come up with these plans together where possible.
Although establishing a routine and structure is critically important for children and young people, in these times you may notice your children need some level of flexibility. Switch up your activities. If your child is seeming restless and agitated when you're trying to follow an online learning program with them, flip to a more active option. Do not forget that planning and doing house chores together safely is great for the development of fine and gross motor functions. Try and stay as attuned to their needs as possible.
Idea #2 | Organize fun activities with and in favor of nature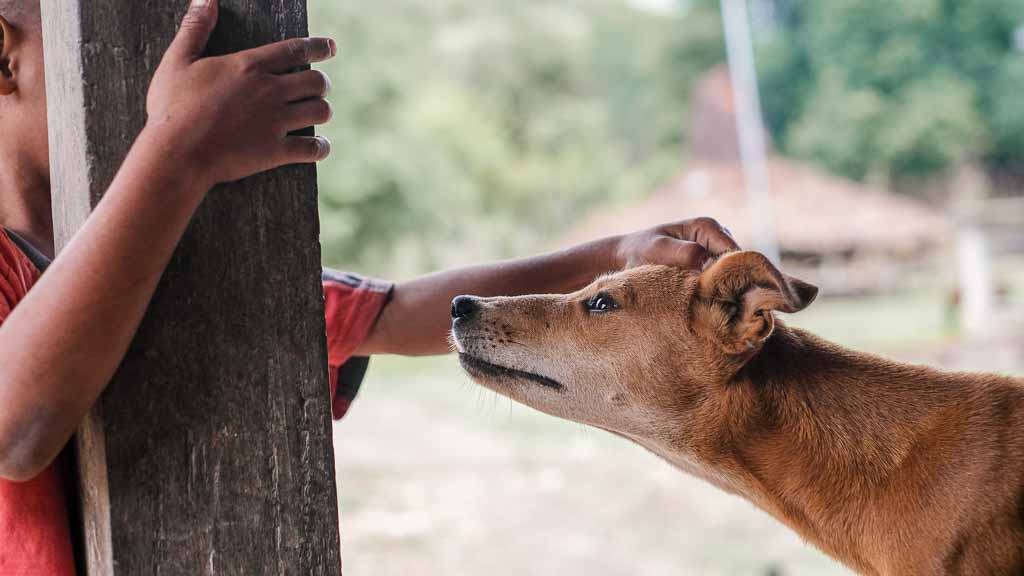 Nature is an inexhaustible source of knowledge. Flowers, trees, animals, birdsong … Have fun feeling, hearing, and recognising names, types, races with your children.
All forms of non-digital activity is essential too. Drawing, painting, playing music, talking about life together as a family is often much more important than school. This is what we call "the school of life".
And then, while respecting social distances, participate in the collective effort in terms of ecology, waste management. You the parents need to set a good example, right? So go and collect tons of plastic on the beaches, in the fields, around your home. It is also an educational activity which is essential for children and which will ensure a better world and a better future for all.
Idea #3 | Have open conversations
Encourage your children to ask questions and express their feelings with you. Remember that your child may have different reactions to stress, so be patient and understanding. Start by inviting your child to talk about the issue. Find out how much they already know and follow their lead. Discuss good hygiene practices. You can use everyday moments to reinforce the importance of things like regular and thorough handwashing. Make sure you are in a safe environment and allow your child to talk freely. Drawing, stories, and other activities may help to open a discussion.
Try not to minimise or avoid their concerns. Be sure to acknowledge their feelings and assure them that it's natural to feel scared about these things. Demonstrate that you're listening by giving them your full attention, and make sure they understand that they can talk to you and their teachers whenever they like. Warn them about fake news and encourage them.
Idea #4 | Take your time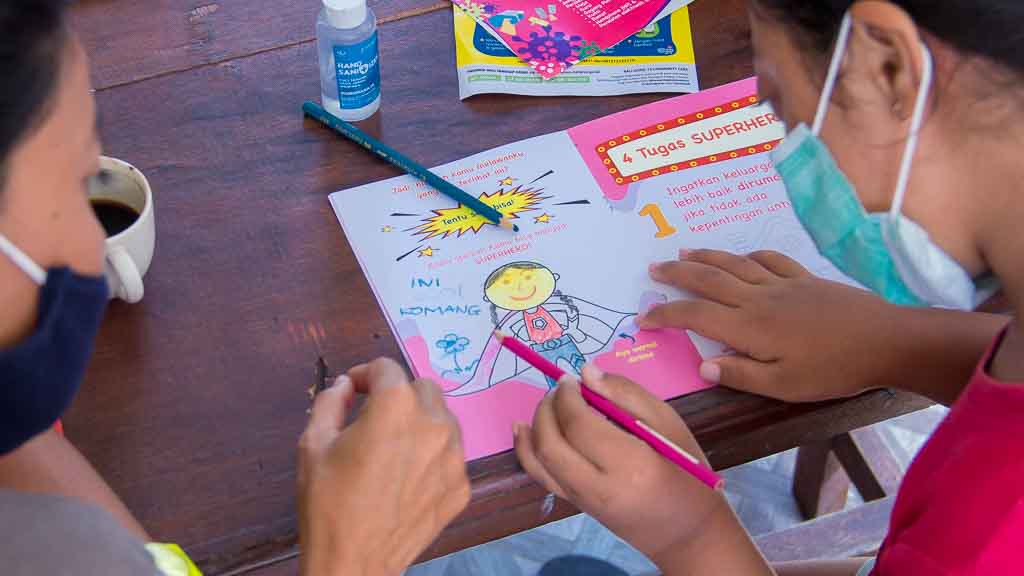 Adapt to the rhythm of your children … To the social rhythm of where you live. A kid from East Java applies a different way of learning than a child from Switzerland for example!
It is important, I believe, to start with shorter learning sessions and gradually increase them. Otherwise, you will quickly get bored and it will also annoy your children. If the goal is to have a session of 30 or 45 minutes a day, maybe it is good to start with 10 minutes and work up from there.
In one session, combine the exercises: Nature, Songs, speaking, Online if you have internet, and offline even if you have Internet access. Nothing beats the words of mom and dad sometimes!
Idea #5 | Protect children online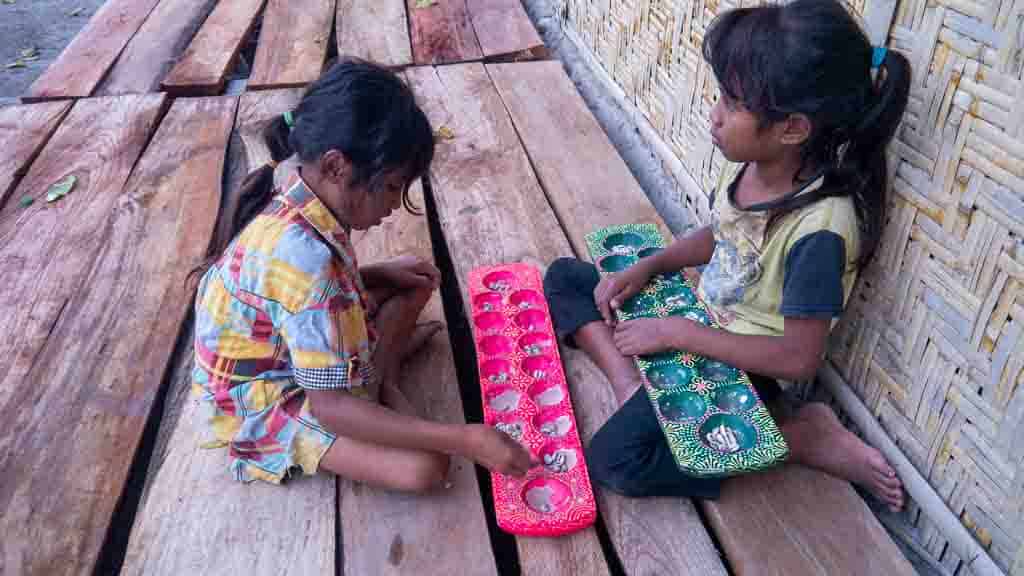 As I said, most of the children here don't have access to the Internet but! However, for those fortunate enough to access specialised digital platforms, this can offer children the opportunity to continue learning, to participate in online educational exercises and games. It can also allow your kids to stay in touch with their friends (and friendship is priceless, right?)
I think it is essential to remember that increased access to data "online" increases the risks to the security, protection, and privacy of your children. For example, don't let them share photos of them on social media without your permission. Remember that children and young people do not have to share pictures of themselves or other personal information to access digital learning.
Note: Many photos of children are diverted, stolen to be put online in a catalog, or worse … Really worse !!!
Talk to your kids about the Internet so they know how it works, what they need to be aware of, and what appropriate behaviors look like on the platforms they use, such as video calling.
Set rules together on how, when, and where the Internet can be used. Set up parental controls on their devices to mitigate risks online, especially for young children. Identify together with the appropriate online tools for recreation.
In the event of cyberbullying or an incident of inappropriate online content, familiarise yourself with the school and other local reporting mechanisms if available.
Idea #6 |Stay in touch with your children's education facility
Find out how to stay in touch with your children's teacher or school to stay informed, ask questions, and get more guidance. Parent groups or community groups can also be a good way to support each other with your homeschooling.
Sincerely yours! Stay safe, stay cool, keep smiling, and be happy!
#AccessToKnowledges #FairFutureSwitzerland #FairFutureIndonesia #ActionForFairFuture #KawanBaikIndonesia #KawanBaikBerbagi #GoodFriendsShare #LesBonsAmisPartagent #Covid19