Medical Assistance dedicated for childrens
The children? These are always the first victims!
What we do: Medical Assistance for Children's
In Indonesia, children are the most vulnerable group, with the highest risk of disease and mortality
Extract | Indonesia is a country that has experienced great economic progress over the past decades. More children than ever are surviving to adulthood. However, large numbers of women and children remain disadvantaged and unable to access essential health services. Far too many children still die from easily preventable problems, especially in their first few days / weeks of life, as well as from diarrhea and pneumonia. These are easily prevented and treated, but are the biggest killers of children in the region. Too many mothers are in poor health or fail to survive childbirth. In many of the areas where Fair Future works, more than 30 percent of children are stunted, a condition associated with long-term undernutrition and poor sanitation and hygiene practices. The principal causes of ill-health and mortality among children in developing countries are outlined and the prospects for improvement through the provision of education, health services, adequate nutrition, clean drinking-water, sanitation and other basic needs.
Ensuring the survival and health of children and women
Child survival and development are at the very heart of all actions carried out by Fair Future. The health programs put in place cannot be effective if there is no access to water, basic medical care, and healthy food. This includes maternal, newborn, and child health, vaccination promotion
Clean water and good sanitation are essential to prevent and reduce child mortality. Women who become pregnant at either extreme of childbearing age are at higher maternal and pediatric risks; the same goes for multiparous women and women with short birth intervals. Most deaths of children aged 1 to 4 are preventable by simple health intervention: The main causes are diarrheic and respiratory diseases, malnutrition, and vaccine-preventable infectious diseases.
Fair Future notes that children are certainly the most affected by the indirect impact of the pandemic than by the viral infection itself. Indeed, we have noticed that the COVID-19 pandemic is having an impact on the health of children, but through the increase in poverty, the loss of education and the closure of schools -here in Indonesia the closure of schools since March 2020-, food insecurity, violence as well as increased pressure on health systems and reduced access to personal health care services.
While children with chronic conditions -such as heart disease, diabetes, asthma, and epilepsy- do not constitute the majority of pediatric cases, the needs of these children also require attention and treatment, especially during the pandemic time.
From the start of the pandemic, we clearly saw that vaccination and nutrition programs were heavily impacted. At the same time, other basic non-medical services for children have also been affected: Access to education, protection against domestic violence, etc.
Health personnel is often relocated -when they have not stopped working because salaries are no longer paid- in order to meet the needs arising from the pandemic. In this type of humanitarian context, medical staff is already limited, so by diverting part of human resources to cover the response to COVID-19, the risk of not meeting basic needs in pediatric programs has increased.

What are the main recommendations made during this time of pandemic crisis to prevent the growth of infant morbidity and mortality?
Some very simple recommendations must be put in place, Fair Future is working in this direction!
First, it is necessary to maintain regular pediatric preventive and curative services. Some of the human, material, and strategic resources that usually exist for these prevention programs have been reduced and we will see the consequences in the near future. For example, we could soon see epidemic outbreaks because of children who have not been vaccinated against rubella or measles. By reducing or closing outpatient clinics, the number of diagnoses (eg diagnosis of malaria, severe dengue) has already increased in the regions where we work with Fair Future.
Children are not the face of covid-19 but will certainly not be spared. Strengthening systems to provide quality health services to mothers and children without access is a key priority for the Fair Future Foundation in the eastern regions of Indonesia.
Second, we need to develop new approaches and implement the necessary practical tools on the ground. For example Nutrition programs, water supply, creation of community gardens, and development of local resources.
Finally, we must continue to defend the rights of children in this pandemic. They are not the ones who die from COVID-19 but will certainly be the ones who will be the most impacted.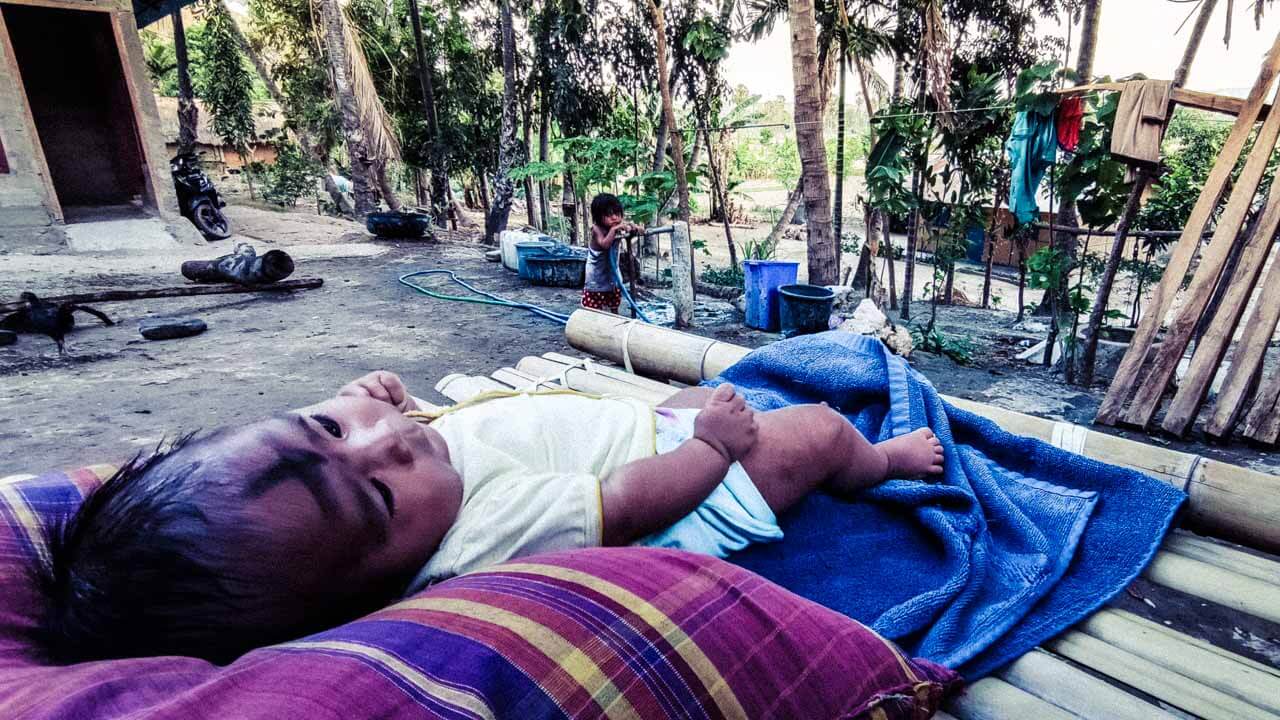 Regardless of the negative impact the COVID-19 pandemic has and will have on children in the years to come, have there really been any positive externalities in the Foundation's projects on the ground?
Community health care activities, which have become a key component in the fight against COVID-19, have reminded us of the effectiveness of this system and should continue to be strongly implemented and integrated into established outreach strategies. by Kawan Baik and Fair Future in more rural areas.
This extraordinary situation confirms that our medical but also logistical teams must be terribly flexible and innovative to provide logistical, social, medical or technical support that is adapted and as adequate as possible in the field.

What types of difficulties do we encounter in the field but also in hospitals in the outermost and rural regions linked to the health care provided to children?
Obviously, the lack of nutrition plays a terrible impact on the physical development of the child. As the parents no longer have any income, the condition of the children has greatly deteriorated, the food budget is being severely impacted.
Pregnant women whom we must also talk about are struck by the pandemic, the lack of medical care, healthy food, drinking water during the time of their pregnancy. We have also observed that a significant number of young pregnant women were proportionately more affected by COVID-19 than the others. Without classifying them for all that in the category of "vulnerable people", their condition requires a healthy diet, care, good hygiene. Conditions that are not met far from it here, for example in eastern Indonesia.
We work with local political authorities to:
Provide technical and logistical assistance;
Increase financial resources;
Introduce new vaccines to prevent childhood killers, such as pneumonia and diarrhea;
Strengthen the monitoring and evaluation of the program;
Facilitate the production and sharing of evidence to improve planning and management;
Reduce the distance, the last mile to reach the last child;
Provide access to the tools created by Fair Future – such as geo-social maps -, allowing the collection of data, information in real-time, from the field;
…
Give for Fair Future programs
Donate to programs initiated by Fair Future and Kawan Baik Indonesia, and be on the ground with us. We are committed to ensuring that as many people as possible have access to a better and healthier life. We are focusing on creating solutions for sanitation and access to drinking water and clean water, sanitationaccess to energy sources, access to school and knowledge, access to medical care (basic and emergency care), especially for children, healthy food, women's rights, and minorities living in rural and ultra peripheral areas.
**Click here to make a donation
Give for Water Connections Program
Fair Future works every day to improve the living conditions of rural communities in eastern Indonesia.
One of the Foundation's tasks is to ensure equitable access to water in quantity and quality, in order to prevent diseases such as cholera, diarrhea, dysentery, hepatitis A, typhoid, and poliomyelitis. With, for children and vulnerable people, a high mortality rate., and maintain lives and livelihoods. This is to reduce environmental risks to health, by managing sanitation safely and with dignity. Still, the foundation seeks to involve women and men in the management of water resources, in sanitation by the implementation of safe hygiene practices in order to maximize the benefits for their communities.
**Click here to make a donation
Give for Basic medical care
Whether it is to fight against famine, diseases linked to the lack of clean water, the lack of sanitation system, the fight against the Covid-19 pandemic, respiratory diseases linked to air pollution, tuberculosis, or any other form of recurrent illness, Fair Future does what it can to best help populations in need.
Help us to provide us with medicines, medical equipment, logistics, my indispensable faith also to get us where no one ever goes. Help us to heal, to give a better life, to help us to save lives!
**Click here to make a donation
Give for 1st emergency relief
Fair Future teams intervene to provide care, including in situations of social and natural disasters, how and why we adapt our activities to each. We have developed emergency actions that have been implemented in the fields of health, access to drinking water, food, and medical care, and have coordinated a multitude of actions since their different medico-social Base Camps. Our teams of professionals fight every day against epidemics and serious illnesses, due to lack of water, food, hygiene, and care for children or pregnant women and vulnerable people.
**Click here to make a donation
Give for Rumah Kambera
Fair Future and Kawan Baik Indonesia Foundation incorporate in all its choices and decisions taken in the context of its actions and field programs, the notions of risks for communities, what is good or bad for them, for people, children, and villages. And for years, we have for mission to develop, support, and create humanitarian programs and actions linked to education, training, and medical care. This is why Fair Future and Kawan Baik Indonesia have created Rumah Kambera, our Base Camp in the Eastern part of Indonesia.
**Click here to make a donation
Give for Rebuild MbinuDita program
After building a new school, bigger, stronger, with materials resistant to storms, bad weather, earthquakes, Fair Future and Kawan Baik, as part of the program, we named "Rebuild MbinuDita ", continue to provide basic things for the lives of thousands of people there.
The program "Rebuild MbinuDita" is to give access to clean water to all the inhabitants of the community, but also to medical care, to healthy food through the creation of organic gardens. These activities have no other objectives than to increase the quality of their life, to provide better health to people (especially children, vulnerable people, pregnant women), access to health and medical care, and for people to be able to increase their income.
**Click here to make a donation
Give for The Truck of Life Program
In the most inaccessible territories, live thousands of people who do not have access to the most basic needs in order to ensure them a healthier life, or basic medical care, access to drinking water so as not to be ill, or a source of light for reading or studying for children.
The Truck of Life program allows us to provide medical care and take children or even a doctor or dentist to the nearest town. Truck Of Life allows us to bring equipment, food, and drinking water to wherever no one goes while ensuring the safety of our volunteers and specialized collaborators.
**Click here to make a donation
You don't have access to e-banking?
Sometimes, it is not possible to make a donation via modern solutions, by what is called "e-banking".
From then on, you can participate in one of our projects or programs by making a bank transfer, via one of our two bank accounts in Switzerland.
**Click here to make a donation
Common diseases we work on
Tuberculosis in Indonesia: A social disease affects the poorest communities, those living in difficult conditions. There are hundreds of thousands of new cases in Indonesia, such as HIV, which is not often mentioned here!
Medical care for children: Far too many children still die from easily preventable problems, especially in their first few days/weeks of life, as well as from diarrhea and pneumonia. Access to clean water and good sanitation solutions is one of the future goals to help them get better.
Dengue virus infection: DENV is a real major cause of acute febrile illness here. In the most affected regions, mortality is very high & affects the most vulnerable. Especially for those who do not have access to medical care.
Malaria and the vulnerable: Every year, malaria kills thousands of people in Indonesia, in all regions, even the richest. 70% of all deaths are children under five, and affect people and families who cannot access medical care.
Antimicrobial resistances. In here, this is a real health emergency, almost all drugs are available over the counter! This scourge turns simple wounds and easily treatable diseases into causes of death.
Air pollution and health: Plastic that burns, everywhere! Air pollution is responsible for almost 50% of mortality here. Dioxins, furans, mercury, and polychlorinated biphenyls are highly toxic!
Malnutrition and famine: Malnutrition causes serious illnesses where we are! The phenomenon, creating a vicious cycle of starvation & disease. This is a major problem in which we deal with!
And about the Dengue fever?

Quick facts about Malaria
Click to open it