Extract | Where are we with MbinuDita's Water Connections project? What are the funds that we have already collected, those that we have already invested in this vital project like never before for more than 2000 people without access to clean water? We present to you via a small infographic what we have already done, what remains to be done and the schedule for the next steps.
The Water Connection Project – MbinuDita website – Today we collected in donations or pledges:

42%

42%
We present the third well to provide clean water for the people living in Mbinudita in East Sumba of East Nusa Tenggara after the previous Mauliru and Rumah Kambera.
We had succeeded in machine-drill the land to reach the deeper ground—the technology that the Sumbanese didn't have any access to—that cost Rp.80 million, along with two toilets for each well. But that's not all.
With the highest gratitude to our donors, we managed to collect more than Rp.400 million to get the three water installations up and running, along with two public toilets for each well. Our work-in-progress in our third well includes installing the electricity for the pump, Ferro-cement water tank for the village and training the villagers to harvest rainwater from it, and building two public toilets—the works that we do this month, February 2022.
We also have to evaluate if the well works wonders, to engage with the local communities to do the maintenance and transfer the knowledge about it. Hat tip for you who trust Fair Future Foundation and Kawan Baik Indonesia to work on your donations. All of you have made us go this far.
We're at 42% strong with already completed two wells, four public toilets, and another ongoing project starting from November 2021 to date, and we won't stop until the end. We strive to give access to clean water and sanitation for the communities to open the pathway for better health.
Positioned as the fifth with the most cases of stunting children, it is undoubtedly that kids are vulnerable to water-related diseases. Improving access to water sources could be translated into better health, better livelihood since less physical effort in collecting the water and more time to be productive, therefore, longer-term positive consequences for their lives.
And you can be a part of it, helping us to provide them with easy access to water, to the thing that most of us could easily have by the snap of our fingers.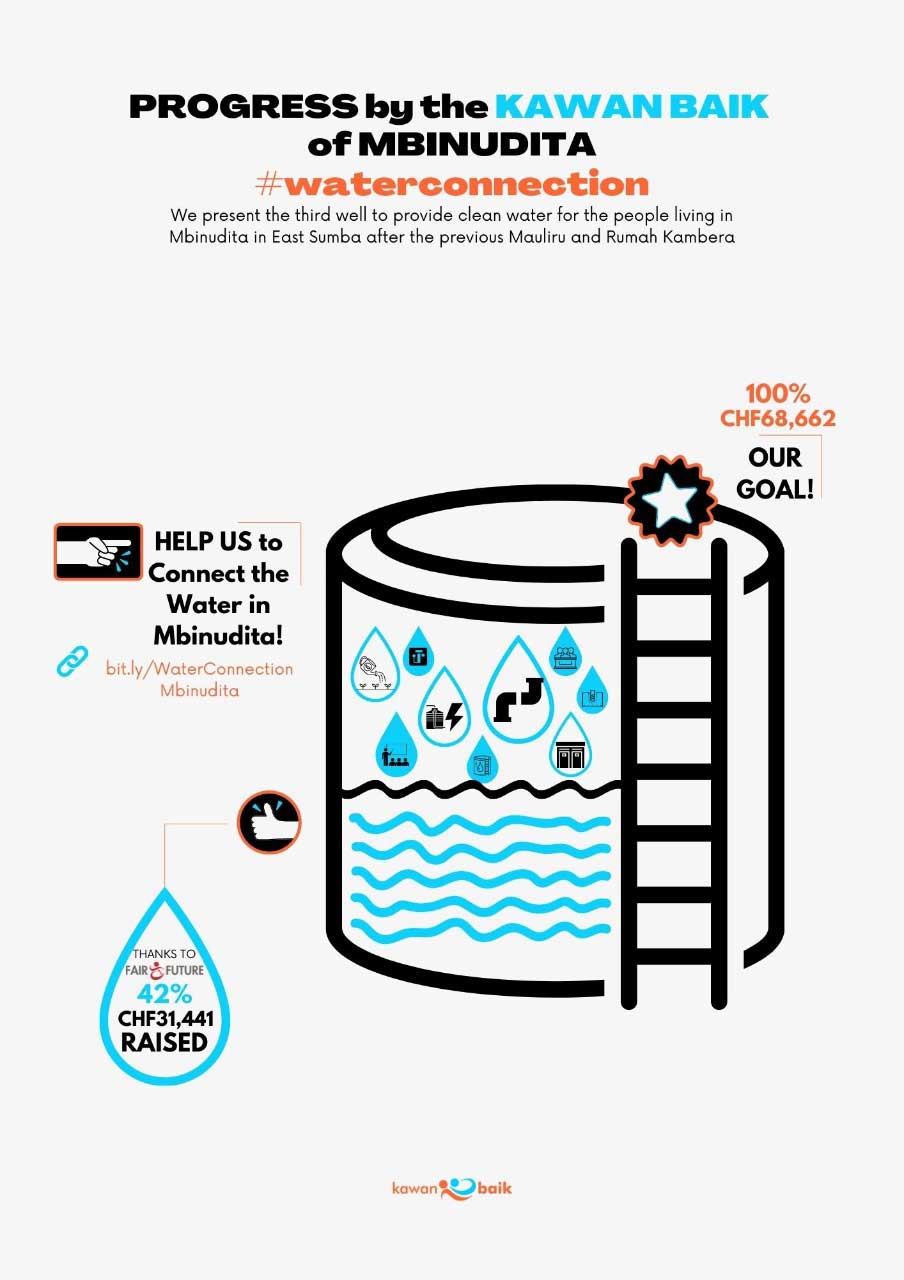 Your comment and feedback is invaluable
…to all of us here who are working in the field. You have a role to play, you can bring us your knowledge, it will be greatly appreciated. Thank you so much for your words and your benevolence.