Aid & Development
The main goal, the vision of the foundation is that people can enjoy a healthier, more enjoyable and healthy life. All in all, without any difference
Skills, Jobs Healthy Life and Income
Access to basic education, vocational training, and income-generating opportunities is essential to lift communities out of poverty.
Extract | Creating a bright future for young people: Over 40% of the world's population is under 25. Future generations will only be able to reach their full potential if quality basic and vocational education is accessible to all, regardless of gender. The economic crisis, lack of income, or youth employment is on the rise and reached staggering levels during the Covid-19 crisis. Education and skills must be accompanied by a strong labor market offering sustainable employment opportunities. Supporting the development of the local sector, strengthening financial inclusion, and investing in local and rural economies is essential for their future.
Young people are taken out of school and sent to work so that families can earn enough to survive.
And only 8 billionaires, all men, have the same wealth as 3.6 billion people.
Fair Future and Kawan Baik Foundations are committed to changing this world and starting in South East Asia. In fact, we believe a just world with less poverty is possible.
This will be done by ensuring universal access to affordable health care, clean water, and quality education. We need to make sure that people have access to safe, well-paid work, and that communities are supported to adapt to the changing conditions of the world around them, including the weather.
As a wealthy nation, we have both the capacity and the responsibility to support communities around the world so that they too can benefit from the gains of development.
We have made great strides in recent decades with halving global poverty, achieving 90% primary school enrolment globally, and halving infant and maternal mortality.
This progress has been made possible by aid and development finance. But right now, aid from our friendly governments is at its lowest level ever as a proportion of the budget, at just 0.23% of gross national income on average!
We must continue to unite to fight poverty so that we can empower more communities to build better lives.
Skills, Jobs & Income
Access to basic education, vocational training, and income-generating opportunities is essential to lift communities out of poverty.
Lack of education perpetuates inequality around the globe, and poor countries cannot compete without a skilled workforce. As education becomes more accessible, Helvetas works to enhance the quality of education and to address the next requisite for prosperity: building a labor market that is diverse, fair, and stable.
Our work
Fair Future's work in basic education is focused on training teachers in rural areas to improve learning in school, help out-of-school children to:
Be able to go to school;
Catch up on learning and reduce gender disparities.
Fair Future works with the private sector to promote inclusive and sustainable market systems that can keep pace with the growth of the workforce. As the young, populated generation prepares to enter the workforce, we help agricultural or technical economies explore new technologies and expand into non-agricultural sectors such as manufacturing, well construction, water solutions, community sanitation and gardens
The issue of access to medical care in rural and ultra-peripheral regions
The rural communities of this ultra-peripheral region do not have access to medical care, even the most basic. Indeed, the distance separating the villages from the nearest health center is very large. The roads are difficult, they are mainly dirt or pebble roads on which only an all-terrain vehicle can access.
In addition, these health/medical centers are only open very occasionally; like one day for children and one day for adults, and this only per week (when they open). These centers are not equipped with medical equipment, no drugs, and medical personnel are often absent. These same health centers, for the most part, do not have access to water either.
Health care is also expensive and people in these rural communities cannot afford anything. As a result, sick people do not go to a doctor and often the consequences are disastrous in terms of infant mortality.
The main goal, the vision of the foundation is that people can enjoy a healthier, more enjoyable and healthy life. All in all, without any difference.
As a whole, without any difference. Access to medical care in this huge country of 270 million people (4th world population) is not a right, but a privilege. We also ensure that the conditions of medical care correspond in all respects to those expected by the local population. Meant by that, we provide the bulk, not the superfluous that could be misunderstood by the local authorities.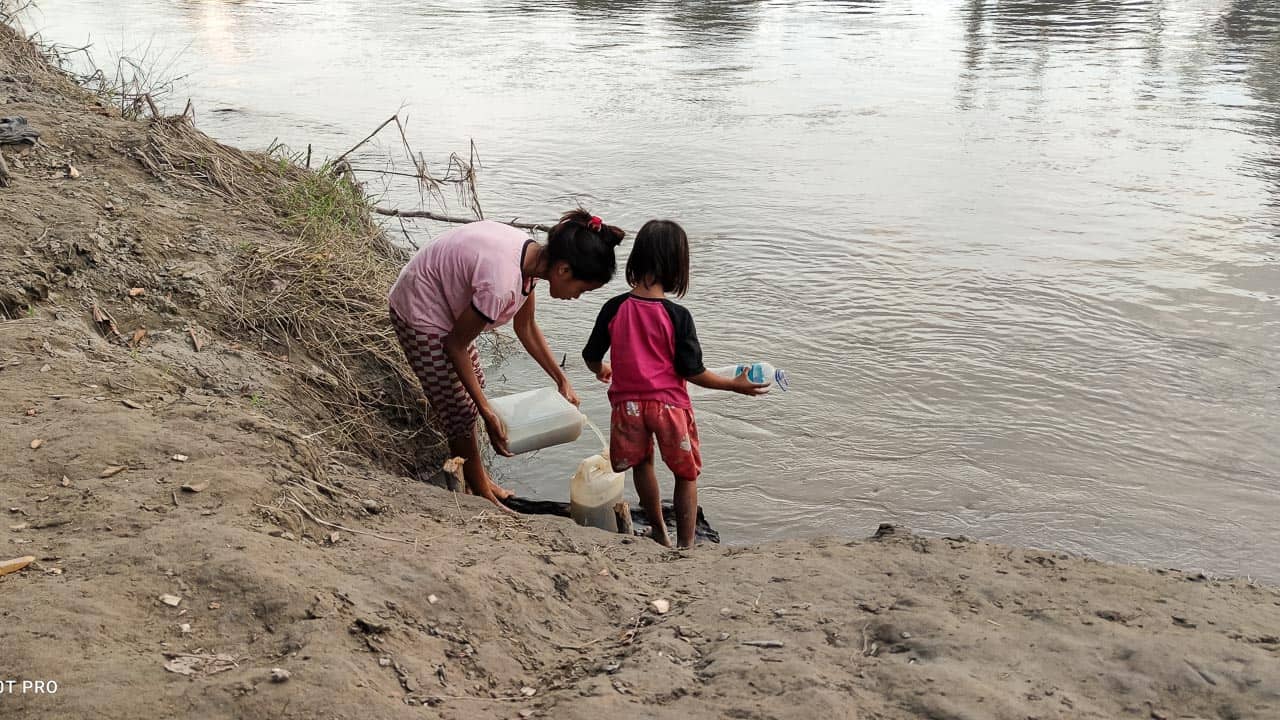 Let's look at the numbers in Indonesia
Out of a population of around 268.2 million, about 25.1 million Indonesians still live below the poverty line.
approximately 20.6% of the entire population remains vulnerable of falling into poverty, as their income hovers marginally above the national poverty line.
5% of the population earns less than $ 1.9 per day, or more than 13 million people.
COVID-19 in Indonesia – There is the projection
The economic impact is expected to be significant and may lead to an overall recession of the country.
Millions of people will be pushed into poverty.
The poverty rate will increase to 12.4 percent, implying 8.5 million more people will become poor.
The latter means that Indonesia's progress in reducing poverty over the past decade will be reversed.
The implication of this is that Indonesia needs to expand its social protection programs to help the new poor in addition to the existing poor.
Extreme inequality: A barrier to poverty reduction
The gap between rich and poor grows wider every year and leads to huge differences in life chances. It exacerbates existing inequalities in other areas, such as those based on gender, geography, ethnicity, race, caste or religion.
It damages our economies, fuels public anger across the globe, and stands in the way of eliminating global poverty.
While public services are suffering from chronic underfunding or being outsourced to private companies, many governments are under-taxing corporations and wealthy individuals, losing significant amounts of money that could be invested in schools, hospitals, and roads.
Corporate tax dodging costs poor countries at least $100 billion every year.
A surgical operation for Assaria
Assaria, 9 years old, must have surgery quickly for his very serious burns to her legs & lower back.
A bottle full of fuel (gasoline) fell into the house fire. At the time of the accident, he was wearing only nylon clothing and was burned.
Assaria, 9, comes from an area where the Fair Future and Kawan Baik foundations have been working for more than three years. 18 months ago, with gasoline, Assa suffered terrifying 3rd-degree burns to both legs, buttocks and lower back. Today he suffers from very serious complications which put his future, and his life in danger.
**Click here to make a donation
Give for Fair Future programs
Donate to programs initiated by Fair Future and Kawan Baik Indonesia, and be on the ground with us. We are committed to ensuring that as many people as possible have access to a better and healthier life. We are focusing on creating solutions for sanitation and access to drinking water and clean water, sanitationaccess to energy sources, access to school and knowledge, access to medical care (basic and emergency care), especially for children, healthy food, women's rights, and minorities living in rural and ultra peripheral areas.
**Click here to make a donation
Give for Water Connections Program
Fair Future works every day to improve the living conditions of rural communities in eastern Indonesia.
One of the Foundation's tasks is to ensure equitable access to water in quantity and quality, in order to prevent diseases such as cholera, diarrhea, dysentery, hepatitis A, typhoid, and poliomyelitis. With, for children and vulnerable people, a high mortality rate., and maintain lives and livelihoods. This is to reduce environmental risks to health, by managing sanitation safely and with dignity. Still, the foundation seeks to involve women and men in the management of water resources, in sanitation by the implementation of safe hygiene practices in order to maximize the benefits for their communities.
**Click here to make a donation
Give for Basic medical care
Whether it is to fight against famine, diseases linked to the lack of clean water, the lack of sanitation system, the fight against the Covid-19 pandemic, respiratory diseases linked to air pollution, tuberculosis, or any other form of recurrent illness, Fair Future does what it can to best help populations in need.
Help us to provide us with medicines, medical equipment, logistics, my indispensable faith also to get us where no one ever goes. Help us to heal, to give a better life, to help us to save lives!
**Click here to make a donation
Give for 1st emergency relief
Fair Future teams intervene to provide care, including in situations of social and natural disasters, how and why we adapt our activities to each. We have developed emergency actions that have been implemented in the fields of health, access to drinking water, food, and medical care, and have coordinated a multitude of actions since their different medico-social Base Camps. Our teams of professionals fight every day against epidemics and serious illnesses, due to lack of water, food, hygiene, and care for children or pregnant women and vulnerable people.
**Click here to make a donation
Give for Rebuild MbinuDita program
After building a new school, bigger, stronger, with materials resistant to storms, bad weather, earthquakes, Fair Future and Kawan Baik, as part of the program, we named "Rebuild MbinuDita ", continue to provide basic things for the lives of thousands of people there.
The program "Rebuild MbinuDita" is to give access to clean water to all the inhabitants of the community, but also to medical care, to healthy food through the creation of organic gardens. These activities have no other objectives than to increase the quality of their life, to provide better health to people (especially children, vulnerable people, pregnant women), access to health and medical care, and for people to be able to increase their income.
**Click here to make a donation
Give for The Truck of Life Program
In the most inaccessible territories, live thousands of people who do not have access to the most basic needs in order to ensure them a healthier life, or basic medical care, access to drinking water so as not to be ill, or a source of light for reading or studying for children.
The Truck of Life program allows us to provide medical care and take children or even a doctor or dentist to the nearest town. Truck Of Life allows us to bring equipment, food, and drinking water to wherever no one goes while ensuring the safety of our volunteers and specialized collaborators.
**Click here to make a donation
You don't have access to e-banking?
Sometimes, it is not possible to make a donation via modern solutions, by what is called "e-banking".
From then on, you can participate in one of our projects or programs by making a bank transfer, via one of our two bank accounts in Switzerland.
**Click here to make a donation
Tuberculosis in Indonesia: A social disease affects the poorest communities, those living in difficult conditions. There are hundreds of thousands of new cases in Indonesia, such as HIV, which is not often mentioned here!
Medical care for children: Far too many children still die from easily preventable problems, especially in their first few days/weeks of life, as well as from diarrhea and pneumonia. Access to clean water and good sanitation solutions is one of the future goals to help them get better.
Dengue virus infection: DENV is a real major cause of acute febrile illness here. In the most affected regions, mortality is very high & affects the most vulnerable. Especially for those who do not have access to medical care.
Malaria and the vulnerable: Every year, malaria kills thousands of people in Indonesia, in all regions, even the richest. 70% of all deaths are children under five, and affect people and families who cannot access medical care.
Antimicrobial resistances. In here, this is a real health emergency, almost all drugs are available over the counter! This scourge turns simple wounds and easily treatable diseases into causes of death.
Air pollution and health: Plastic that burns, everywhere! Air pollution is responsible for almost 50% of mortality here. Dioxins, furans, mercury, and polychlorinated biphenyls are highly toxic!
Malnutrition and famine: Malnutrition causes serious illnesses where we are! The phenomenon, creating a vicious cycle of starvation & disease. This is a major problem in which we deal with!

FFF Base Camp NTT, East Sumba