Medicines available in our Far East Base Camp
Real-time update of the drugs we have in stock in Sumba East
List of drugs available at East Sumba Base Camp in Indonesia
Rumah Kambera, Lambanapu
Extract | Access to essential medicines is a basic element of any effective health care system. Essential drugs are defined by the World Health Organization (WHO) as "drugs which meet the priority health care needs of the population", and which "must be available at all times in sufficient quantities, under appropriate pharmaceutical forms, with guaranteed quality, and at an affordable price for the individual and the community "
Access to healthcare is a fundamental human right. Here, medical care is a privilege and Fair Future tries to restore what must be, for everyone's benefit.
Fair Future and Kawan Baik, as part of their socio-medical activities in eastern Indonesia and their Rumah Kambera Base Camp, have a place where medical care can be given.
It is also where we store the drugs and other medical equipment that we have available. This serves as a reserve, as a local pharmacy. While Sumba has nothing, we are one of the privileged places to distribute medicines to the suffering and sick.
In terms of pharmaceuticals, we lack everything or almost nothing is enough. As part of our fight against poverty and related diseases, but above all in order to combat the spread of the COVID-19 pandemic that is raging in Indonesia, especially in areas where nothing is being done by the government Indonesian (Read this page here regarding our pandemic work here in the east of the country), we need medicine.
Our bank details are available under this link. For any information request, please send us an email or contact us here.
List of drugs available in real-time In Rumah Kambera Base Camp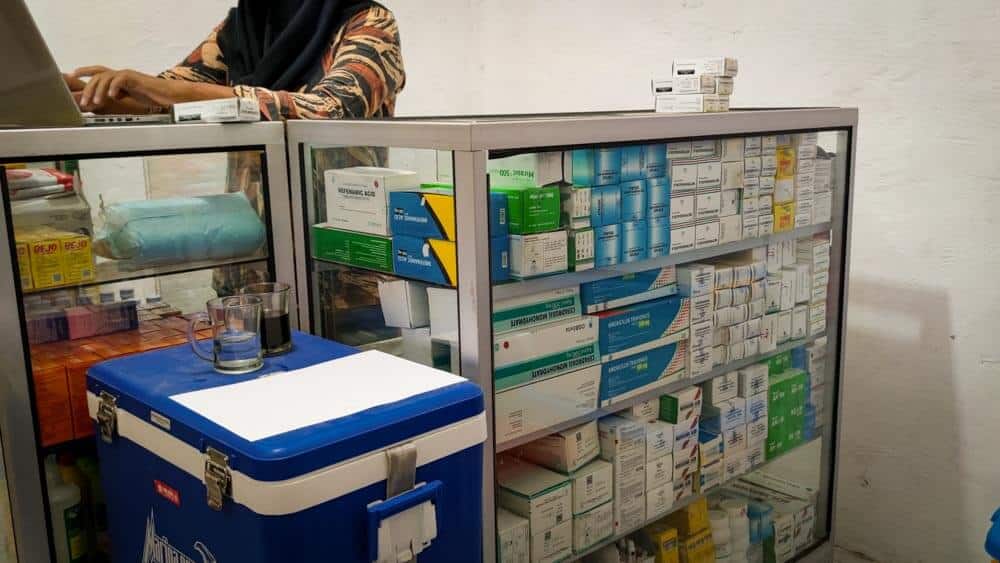 Medical care for children: Far too many children still die from easily preventable problems, especially in their first few days/weeks of life, as well as from diarrhea and pneumonia. Access to clean water and good sanitation solutions is one of the future goals to help them get better.
Malnutrition and famine: Malnutrition causes serious illnesses where we are! The phenomenon, creating a vicious cycle of starvation & disease. This is a major problem in which we deal with!
Air pollution and health: Plastic that burns, everywhere! Air pollution is responsible for almost 50% of mortality here. Dioxins, furans, mercury, and polychlorinated biphenyls are highly toxic!
Today, the Swiss foundation faces major challenges in terms of engagement in the field: Pandemic, Access to Water, Health, education or the simple fact of being able to go to school. !
Providing medical care, drinking water, light to study, build schools and improve solutions for access to knowledge, and primary care is our main priorities.
We created, realized, set up the project "Rumah Kambera" in this direction:
To improve the living conditions of hundreds of thousands of families and children, living in rural areas of eastern Indonesia.

Dengue virus infection: DENV is a real major cause of acute febrile illness here. In the most affected regions, mortality is very high & affects the most vulnerable. Especially for those who do not have access to medical care.
FFF Base Camp In East Sumba
Tuberculosis in Indonesia: A social disease affects the poorest communities, those living in difficult conditions. There are hundreds of thousands of new cases in Indonesia, such as HIV, which is not often mentioned here!
Malaria and the vulnerable: Every year, malaria kills thousands of people in Indonesia, in all regions, even the richest. 70% of all deaths are children under five, and affect people and families who cannot access medical care.
Antimicrobial resistances. In here, this is a real health emergency, almost all drugs are available over the counter! This scourge turns simple wounds and easily treatable diseases into causes of death.